My novel is available through Amazon.co.uk at £14, and Amazon.com at $16. In the UK, after you register on the website, you can order a copy directly from me for £12 plus postage, and I can then inscribe and dedicate it as you wish. I will be adding the ability to order directly from me in other parts of the world after I set up e-commerce on this site.
FIRSTLY, I completed years of research before I even began writing. I changed a few events and created a handful of fictional characters, but Resolute's story itself needed very little changing to be an interesting novel. It was already populated by diverse characters like the sadistic Belcher, the extremely kind Kellett, conniving politicians, war-mongering Congressmen, and British diplomats breaking the law. All I needed to do was flesh out the characters of these historical figures.
In the States these included President Pierce, Virginian Senator James Mason, James Munroe Buddington, and the men in the Perkins and Smith Whaling firm. In Britain and the Crimea these included Prime Minister Palmerston, Queen Victoria, and the nurse Mary Seacole who cared for the men at the front during the Crimean War.
When writing about Edward Belcher, I incorporated some sadistic events from the early days of his naval career. Originally occurring in a hot climate, I adapted them to Arctic conditions. I gained a great deal of insight about his character and what motivated him by reading his own writing. Whether or not I was successful in making his character come alive (and be despicable) in the novel is, ultimately, up to my readers to decide!
One of the sad things I discovered about Henry Kellett's life was that he never married. Because I was writing Resolute's story as a novel this first time round I had it in my power to create a family for him. So I did! I gave him a loving wife, Alice, and a headstrong daughter, Margaret. They lived the Kellett family's real home, Clonacody, in County Tipperary. I was very fortunate to have the chance to visit Clonacody, and meet several members of the fabulous family who own it now. On a subsequent visit they even allowed me stay there for 2 weeks while I wrote some of the passages that took place in Ireland.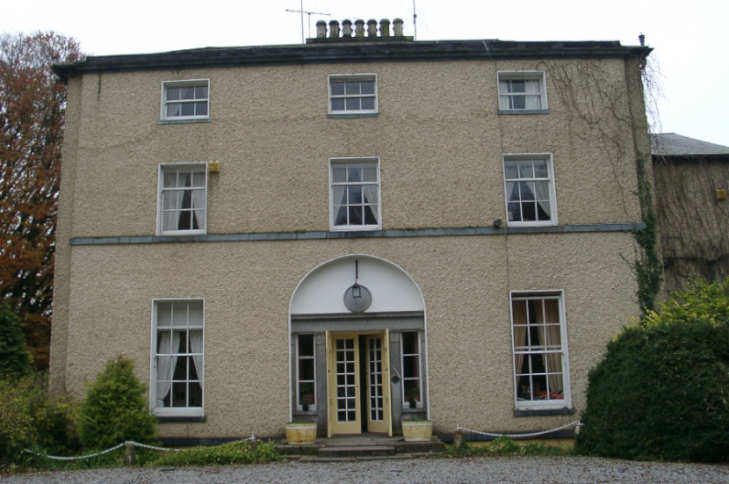 Having created Kellett's wife and daughter, I also created some of the people who would naturally be in their world: their groundskeeper, friends, neighbours, their church's reverend and fellow worshippers. While I was staying at Clonacody, and as a little thank you to the family for their hospitality, I sketched out the character of Alice more fully, and incorporated some of the stories Clonacody's current owners had shared with me about their mother. I really enjoyed creating this loving family for the gallant and kind captain of the Resolute.
I used my fictional characters in the novel as a mechanism to incorporate American and British politics, which were heightening tensions between the two countries. For example: in Britain Alice and Margaret Kellett became involved in the politics surrounding the very unpopular Crimean War. In the United States I had to include the pre-Civil War politics which were integral ingredients in Resolute's story. To weave these issues into the novel I created a Quaker family in New London, Connecticut, and made the fictional family's head, Fairfax Abraham III, a partner in the real whaling firm of Perkins and Smith. I highlighted the tensions between the father and the oldest son, Fairfax Abraham IV (called Fair Abe) to shine a light on the dilemma many Friends faced in the buildup to the American Civil War. Quaker families were torn asunder by conflict over the correct way to deal with slavery. The basis for Quaker involvement in the abolitionist movement was their central belief that God's Light shines in everyone. However, another central tenet of Quakerism is being conscientious objectors to all wars. Fair Abe was a fire brand abolitionist who wanted freedom for American slaves immediately, no matter what it took. His father wanted their freedom, too, but in a manner that would not lead to war. The inability of President Pierce to find a way to keep his country from being torn apart over the problem of slavery is also central to Resolute's story. It's through this Quaker family that I brought this critical time in American history into my Resolute novel.
Finally, I had to comply with the rules of novel writing: every scene throughout the book had to build toward the climax and resolution of that conflict at the end of the book. To do this, I had to leave out a lot of interesting material that wasn't essential. There was so much of this material that I resolved to write the non-fiction version of Resolute's story as soon as possible.
My disability, of course, meant what an able-bodied person could do in six months took me much longer! Even so, I have now finished editing the new non-fiction manuscript. My husband has proven to be a very able research assistant and he found much more information online which I have been able to incorporate in the manuscript. I am now searching for an agent or publisher.